| | |
| --- | --- |
| Product Name | PSA oxygen generator plant |
| Model No. | NZO- 3/5/10/15/2025/30/40/50/60 |
| Oxygen Production | 5~200Nm3/h |
| Oxygen Purity | 70~93% |
| Oxygen Pressure | 0~0.5Mpa |
| Dew Point | ≤-40 degree C |
| Component | Air compressor, Air purification system, PSA oxygen generator, booster, filling manifold etc |
| | | | |
| --- | --- | --- | --- |
| Specification | Output (Nm3/h) | Effective gas consumption ( Nm3/h ) | Air cleaning system |
| XSO-5 | 5 | 1.3 | CJ-2 |
| XSO-10 | 10 | 2.5 | CJ-3 |
| XSO-20 | 20 | 5 | CJ-6 |
| XSO-40 | 40 | 9.5 | CJ-10 |
| XSO-60 | 60 | 14 | CJ-20 |
| XSO-80 | 80 | 19 | CJ-20 |
| XSO-100 | 100 | 22 | CJ-30 |
| XSO-150 | 150 | 32 | CJ-40 |
| XSO-200 | 200 | 46 | CJ-50 |
1. PSA oxygen generator plant is fabricated using advanced Pressure Swing Adsorption technology. As is well-known, oxygen constitutes
around 20-21% of atmospheric air. PSA oxygen generator used Zeolite molecular sieves to separate the oxygen from the air. Oxygen with high purity is delivered whereas the nitrogen absorbed by the molecular sieves is directed back into the air through the exhaust pipe.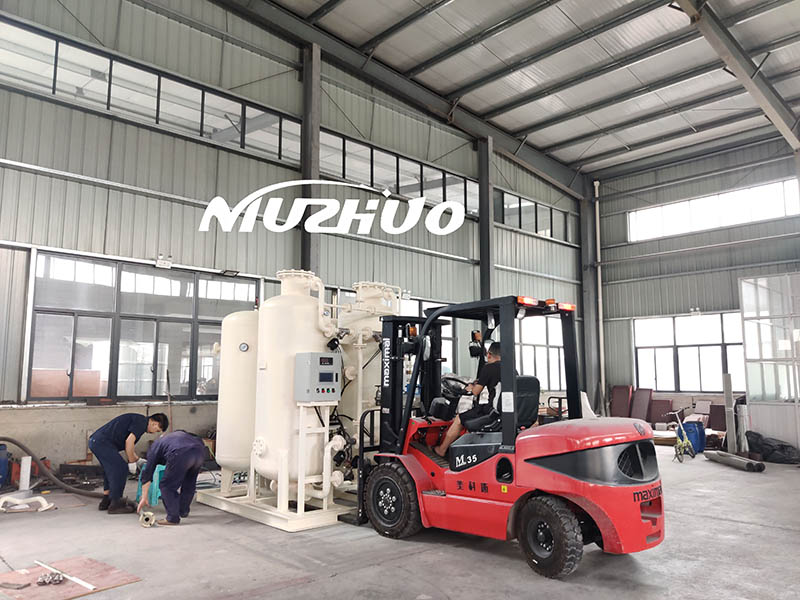 2. Pressure swing adsorption (PSA) process is made up two vessels filled with molecular sieves and activated alumina. Compressed air is
passed through one vessel at 30 degrees C and oxygen is generated as a product gas. Nitrogen is discharged as an exhaust gas back into
atmosphere. When the molecular sieve bed is saturated, the process is switched to the other bed by automatic valves for oxygen generation.
It is done while allowing the saturated bed to undergo regeneration by depressurization and purging to atmospheric pressure. Two vessels
keep working alternately in oxygen production and regeneration allowing oxygen is available to the process.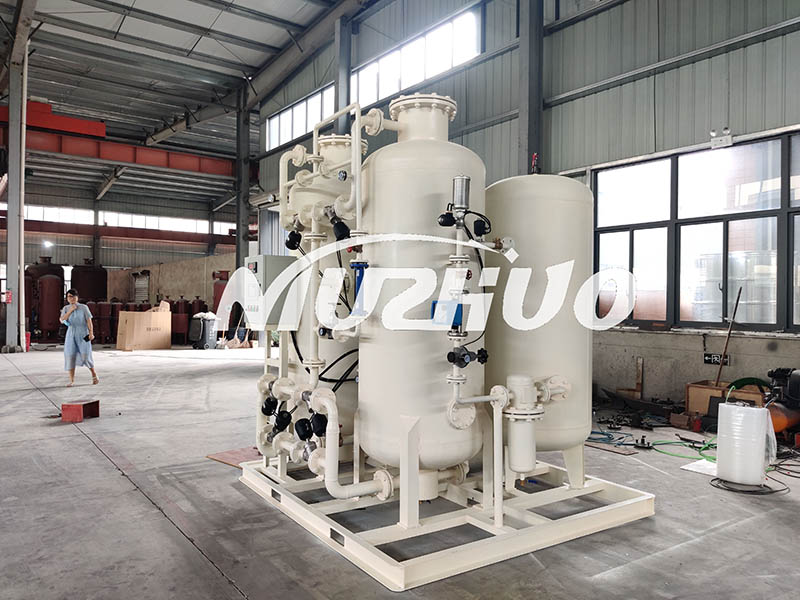 3. Applications of PSA Plants
Our PSA oxygen generator plants are used across numerous industries including:
Paper and Pulp industries for Oxy bleaching and delignification
Glass industries for furnace enrichment
Metallurgical industries for oxygen enrichment of furnaces
Chemical industries for oxidation reactions and for incinerators
Water and Wastewater treatment
Metal gas welding, cutting and brazing
Fish farming
Glass industry